Show your membership key tag and save 12c per litre on all fuel purchases!
NPD offers 12c off per litre on all fuel purchases to all members of the Nelson Mountain Bike Club. Present your valid membership key tag at participating manned NPD sites throughout the South Island to redeem your discount (offer NOT available at NPD's Self Serve sites).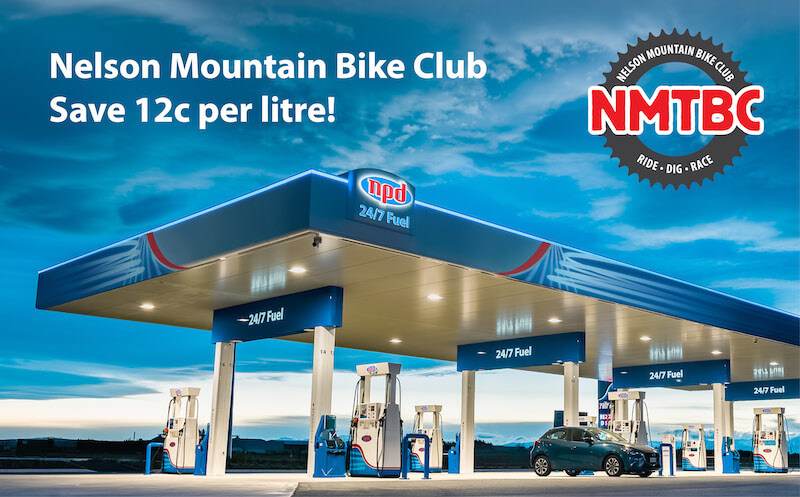 Special conditions apply, not valid with any other offer.
Only available at the following sites (click the link to get directions):
NPD Waimea – 7 Gladstone Road, Richmond, Nelson.
NPD Lower Queen Street – 415 Lower Queen Street, Richmond, Nelson.
NPD Brightwater – 34 Ellis Street, Brightwater, Nelson.
NPD Redwood – Corner of Redwood Street and Alabama Road, Blenheim.
NPD Moorhouse – 392 Moorhouse Avenue, Christchurch.
NPD Rolleston – 740 Jones Road, Rolleston.
NPD Timaru – 84 Evans Street, Timaru.
NPD Frankton – Corner of Ladies Mile Highway and Hawthorn Drive, Queenstown.
NPD Milton – 39A Union Street, Milton.
Special Fuel discount promotions terms and conditions:
Not to be used in conjunction with any other offer.
Only one fuel discount can be redeemed per transaction, per customer.
Discount only available to a limit of 200 litres per transaction.
Can be redeemed on all fuel grades sold by NPD unless stated otherwise.
NPD reserves the right to change the discount amount, location and duration of time in which discount is offered at their discretion
The NPD sites and locations where this fuel discount is offered may change at the discretion of NPD.
NPD Ltd.'s decisions on all matters related to this promotion are final and no further correspondence will be entered into.
By reading these terms and conditions of NPD Ltd.'s discount offer and participating in this promotion you have by then agreed to the particulars of the above information.
The discount promotion is offered by NPD Ltd, located at 13 McPherson Street, Richmond, Nelson 7050.