Win the ultimate family road trip with the NPD Spring Colouring Competition!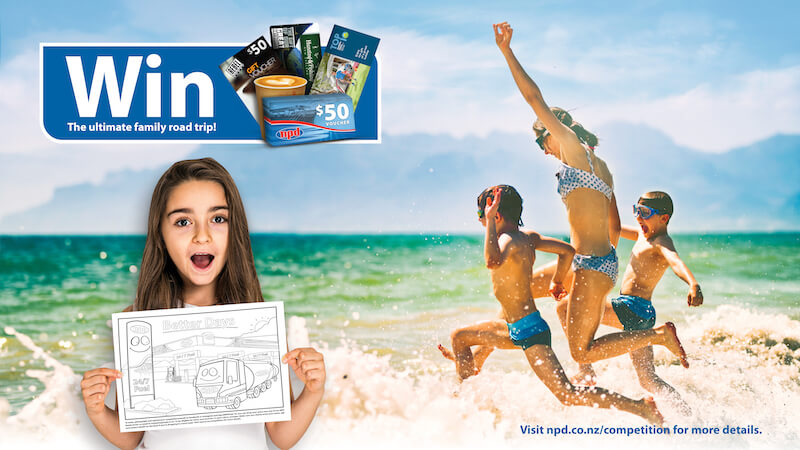 Give the kids something to do this school holidays with our Spring Colouring Competition and a chance to win a massive family road trip pack valued at over $750!
Prize pack
$350 NPD Fuel Vouchers
$50 Refresh Café Vouchers
$200 Top 10 Holiday Vouchers
$50 Hunting and Fishing Voucher
$50 Rebel Sport Voucher
4 Free hot drinks of your choice from Refresh Café
4 x NPD Caps, 4 x NPD Tshirt, 2 x NPD Bag
Total Value: $750
How to enter
Download the  Colouring Competition Artwork
Allow your creative juices to flow and turn the artwork into a colourful masterpiece. Feel free to use pens, pencils or paints!
Take a photo of your completed artwork and upload it to our Facebook page or Instagram and tag @NPDFuel. You can also drop it into one of our Retail Sites (see the list below), or email to marketing@npd.co.nz. You can mail your artwork to NPD Head Office at 13 McPherson Street, Richmond, NelsonEntries will be judged on creativity, the accuracy of NPD colours and overall presentation.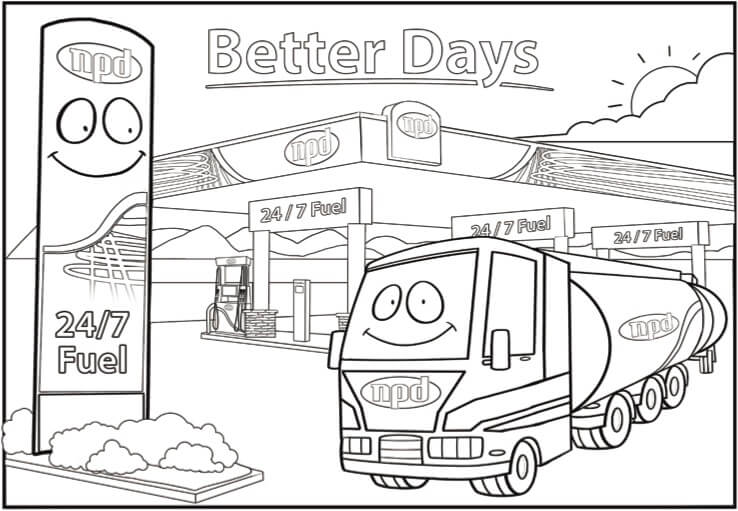 Artwork also available from:
NPD Moorhouse – 392 Moorhouse Ave, Christchurch
NPD Rolleston – 740 Jones Road, Rolleston
NPD Redwood – Cnr of Alabama Rd and Redwood St, Blenheim
NPD Frankton – Cnr of Ladies Mile Hwy and Hawthorn Dr, Queenstown
NPD Waimea – 7 Gladstone Road, Richmond, Nelson
NPD Brightwater – 34 Ellis Street, Brightwater, Nelson
NPD Timaru – 84 Evans Street, Timaru
NPD Milton – 39A Union Street, Milton
Terms and Conditions
Competition opens on 28th September ends on 11th October 2020 at 12pm noon
The competition is open to children up to the age of 12
Winners will be selected and announced on 25th October 2020. Winners must provide contact details to claim their prize
Prize must be collected from a participating NPD Retail site (Redwood, Frankton, Moorhouse, Rolleston, Timaru, Milton, Waimea, Brightwater).
Prize pack include the following items:

$350 NPD Fuel Vouchers
$50 Refresh Café Vouchers
$200 Top 10 Holiday Vouchers
$50 Hunting and Fishing Voucher
$50 Rebel Sport Voucher
4 Free Coffees

Fuel Vouchers are only redeemable at NPD Retail sites and all vouchers must be redeemed within 6 months of the conclusion of the competition
Standard Facebook competition terms and conditions apply.
Parents or guardians must accompany their child to collect their prize.
Parents or guardians must offer photo ID to collect the prize.
By submitting your entry, you give NPD Ltd express permission to use the content of your entry.
NPD Ltd.'s decisions on all matters related to this promotion are final and no further correspondence will be entered into.
By reading these terms and conditions of NPD Ltd.'s competition and by participating in this competition you have by then agreed to the particulars of the above information.
Prizes cannot be exchanged for cash or any other item.
The promotion is offered by NPD Ltd, located at 13 McPherson Street, Richmond, Nelson 7050.